Frequently Asked Questions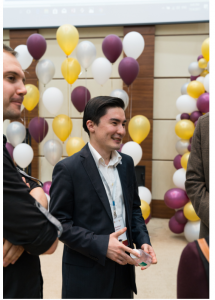 Despite the distance, Nazarbayev University is looking forward to maintaining life-long relationships with you as NU graduates and invites you to become an Alumni Ambassador.
Who is an Alumni Ambassador and what does s/he do?
Alumni Ambassador is a contact point for prospective students interested in NU, for visiting staff, students and alumni
Alumni Ambassador provides insight and feedback on student interest and trends

Alumni Ambassador encourages today's students to see themselves as future alumni and valuable members of NU community

Alumni Ambassador assists in the organization of alumni gatherings in your area
Alumni Ambassador assists at local and overseas recruitment fairs and exhibitions attended by NU Admissions Department.
Why become an Alumni Ambassador?
As an ambassador you have an opportunity:
To enhance your own personal and professional development
To further develop your communications skills
To give back to NU – playing an active role in the promotion and development of your Alma mater
To take advantage of excellent networking opportunities.
Insider updates, be the first to know exclusive
Regular ambassador updates
Your Ambassador Profile on our websites
Promotion of your personal blog and social media
T-Shirts, NU t-shirt, etc
Appreciation Certificate
Letter of recommendation
Fantastic experience to put on your resume
How to become an Alumni Ambassador?
Read the Handbooks of NUASRA and NUASMA if you selected these roles
Complete the form below expressing interest in the ambassador role
Submit it online or send via alumni@nu.edu.kz
Your profile will be available on the NU alumni website
NU responsible unit will contact you to proceed further
How to become an Alumni Ambassador?
If you're a graduate of Nazarbayev University and you are interested in becoming NU Alumni Ambassador please read the Agreement and complete the profile. You will then be contacted by NU CAC.