Alumni Stories
NU alumni are achieving their dreams.
They shared their journeys with us to help inspire others.
---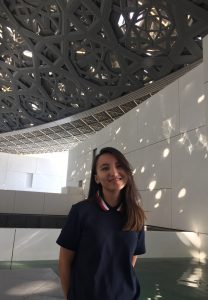 ---
---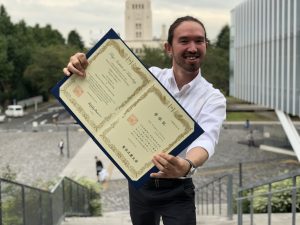 Otepov Sultan
An alumnus of Class of 2018 is currently studying Ph.D. in Materials Science and Engineering at Tokyo Institute of Technology.
What did you get from studying at NU? Strong science and engineering foundation. A lot of friends.
What lessons have you learned? It is never too late to work toward your dreams. I had not been accepted to any university when I graduated from NU. It took me several attempts to enter Tokyo Tech.
What was/is the most challenging in your life after NU? The time right after graduation. Having neither a job offer nor an acceptance to graduate schools, there was a feeling of being lost.
How did you get to where you are now? I worked as junior research after graduation and it helped me a lot to enter Ph.D. program. In addition, I would not have made it without the support of my loving family.
What are you most proud of? I am proud of being an NU alumnus. I am happy that I am living in a country, where I have wanted to live since high school.
What drives you? I am very interested in my research field. I believe that it is a true joy to be involved in what you love the most.
How do you balance work and life? As a graduate student, my work schedule is somewhat flexible. After working for a long time without breaks, I take similarly long rest to spend it with my family and friends.
If you could choose another profession, what would it be? I would like to try many different professions. However, my immediate choice would be a doctor.
Where do you hope to be in 10 years' time? I want to continue with an academic career and I hope I will have a professorship by 10 year's time. My ultimate goal is to contribute to the development of scientific research in Kazakhstan.
Your three goals for 2019 are:
1 goal
To publish 2-3 research papers
2 goal
To travel to 2-3 countries I have not yet traveled to
3 goal
To try some new hobbies
Is there anything you wish you had done differently during your time as a student?
I should have participated in social activities more often.
What are your favorite memories of life at NU? Every single moment I spent with my friend and sleepless nights before final exams.
What advice would you give to new NU graduates? Do not forget to take a memorable and refreshing rest before the next step!
---
---
Kapysheva Aizhan
An alumna of Class of 2016 works as a Senior Analysis at Federal Competitiveness and Statistics Authority in UAE Dubai.
What did you get from studying at NU? Skills, network, community, lifelong friendships
What lessons have you learned? Work hard and focus on your goal, no matter what everyone says
What was/is the most challenging in your life after NU? Finding the specific area I want to specialize in as a professional
How did you get to where you are now? Hard work, some luck, and tremendous support from my mentors and parents
What are you most proud of? I am proudly giving back to the community in any way I can
What drives you? An exciting idea that we are creating our own lives
How do you balance work and life? I try to focus on what's important and what makes me happy - family, friends, hobbies
If you could choose another profession, what would it be? I would like to a pianist
Where do you hope to be in 10 years' time I don't know where. I try to ask myself: Who do I want to be in 10 years?
Your three goals for 2019 are:
1 goal Be the best I can be at my new job
2 goal Travel to a new country
3 goal Buy a piano
Is there anything you wish you had done differently during your time as a student? No
What are your favorite memories of life at NU? Becoming the winners of Astana women's basketball tournament in 2015 with my best friends on the basketball team
What advice would you give to new NU graduates? Try new classes, join a club, find a group of extraordinary people, experiment, don't focus on GPA too much.
---
---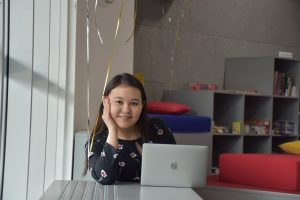 Auyelbekova Dinara
An alumna of Class of 2015 works as a Director of American Space Almaty
What did you get from studying at NU? Knowing that anything is possible, even becoming a captain of the best basketball team in Astana with a height of 1.6 meters.
What lessons have you learned? Getting used to adult life and not to cry.
What was/is the most challenging in your life after NU? Finding the specific area I want to specialize in as a professional
How did you get to where you are now? I searched for vacancies, send my resume and got through an interview.
What are you most proud of? I am most proud of my project IELTS APAI online courses for IELTS preparation in the Kazakh language for rural youth.
What drives you? My personality and my Mom
How do you balance work and life? No multitasking at work to be more productive and finish everything on time. And turning off notifications on your phone really helps.
If you could choose another profession, what would it be? Basketball player
Where do you hope to be in 10 years' time wealthy entrepreneur and happy mom and wife
Your three goals for 2019 are:
1 goal  visit Harry Potter Park in Orlando
2 goal  prepare 3000 students for IELTS
Is there anything you wish you had done differently during your time as a student? To do internships in the companies that you like, not in the ones that are prestigious
What are your favorite memories of life at NU? Basketball, IQ games
What advice would you give to new NU graduates? I have 8 pieces of advice. You can read them in the VK page NU kak nam tam.
---
---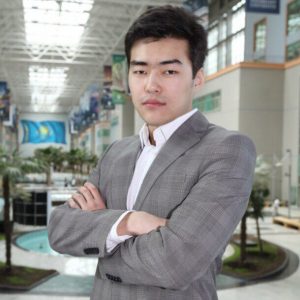 Tazhi Kulzhan
Hi, My name is Tazhi Kulzhan'15 and I am a Rotating equipment engineer (Machinery, whichever way you want to call it) at North Caspian Operating Company (I hope you heard about Kashagan project) and I would like to share some ideas and thoughts from my personal experience. I hope they would help you to make your future choices. I graduated from the University in 2010 as a Mechanical Engineer, so this overview will be from an engineer position.
First of all, Internships did help me to find my first job; so, it is a very effective tool to identify which industry you would like to work in. In total, I did 5 internships during my university years:
Tulpar-Talgo engineering department (Talgo manufacturing plant in Astana).
This internship helped me to understand that the automotive industry of Kazakhstan still requires significant development and I decided to try something else where I can develop faster;
AgipKCO in reliability department (former operator of Kashagan);
Internship in AgipKCO helped me to explore oil and gas industry, international standards, multinational environment, importance of HSE (Health, Safety and Environment) aspects, as well as how people are treated in international companies and, after that, I decided to try myself in oil and gas. Interestingly, I found the sizes and complexity of Bolashak process operating facility quite impressive.
Robotics lab internship (because I was always interested in Robotics projects);
Shell Kazakhstan Development - SKD (responsible for the share in Kashagan project);
AgipKCO in Static Mechanical Maintenance Engineering.
The second internship in AgipKCO was more conscious in terms of activity/discipline choice, much more technical and oriented at getting a job in the company. I have spent one month working on the project of planning pressurized bottles storage at an offshore island. Project implied consideration of safety, feasibility and cost aspects and development of proposals with different options as well as their evaluation and final recommendation. I really enjoyed doing this internship, and I was grateful for the fact that I was doing a project of a senior engineer level. This internship helped me to get a job offer after my graduation.
It has been 2 years since my employment and I can say that the exposure to a variety of problems - is the most amazing part of my job. It sounds strange that problems can be amazing, but maybe this is what makes engineers different from other professions. Currently, I am a Focal point for Offshore rotating equipment, looking after the highest pressure sour gas injection compressors in the world, working closely with co-venture partner experts, getting a lot of commissioning experience, frequent flights to offshore islands. In the end, it is all about being in the right place at the right time and it is the start-up of a huge project, which is not so frequent now in this industry.
There are certain things that I really like about international oil and gas companies in Kazakhstan – high Safety standards, working culture, reasonably good salary and good opportunities to develop.
Safety is really one of the priorities and I can feel it every time I come to the site. All the international oil and gas companies have quite a strong safety culture because their reputation on the market can be affected by any of the incidents. Every site management decision is done with the care of people working there.
Talking about work culture, it is quite friendly and informal. At the same time, it can be very challenging and stressful when production is at stake, which is normal for all operating companies.
With regards to the salaries, such companies as TCO, KPO, and NCOC do provide a good social package (gym fee, medical insurance, kinder garden, school allowances and etc.) and reasonably high salary, which is above than average in Astana or Almaty.
If taking into an account a Professional development, I would say that this industry is probably one of the fastest ways to learn about the existing technology in the related disciplines and its application in the industry, which I felt was lacking during some of NU courses. Despite these are not really state of the art technologies, it can be a good foundation for future development. Moreover, I developed a lot in interpersonal skills as well working with different people from different cultures, backgrounds, and experience.
Even though I was asked to write about the industry as a whole, I would like to differentiate between international oil and gas companies or their joint ventures and national or local companies, because I know that these two environments are quite different and I don't know much about the second one.
However, there is always another side of a coin.
There are certain things that are more on the negative side, in my opinion, like high HSE risks, not the best location of a business, current industry crisis, lack of science and technology in the problem-solving approach.
- First of all, Oil and gas industry, especially in Kazakhstan, especially these 3 major projects, does imply very high risks during operation. Sour gas, high pressure (650 bar at the surface), high temperature, chemicals and acids, flammable gases, all these hazards make this business very risky from health, safety and environment point of view. Despite it does add some romantics into this industry, everyone wants to return home healthy.
- Secondly, most of the time oil and gas companies are located not in the best cities. It is not the exception for Kazakhstan either, because the industry is concentrated on the western part of Kazakhstan and cities like Atyrau and Aktau are generally considered as less attractive for living than Almaty or Astana. There may be several reasons for such a trend like lower leisure opportunities, less developed infrastructure, harsher weather conditions and etc. So ask yourself whether you are ready to sacrifice metropolis comfort for a faster experience and better financial conditions instead?! This trend also in some way resulted from the current oil price crisis.
- Thirdly, the current crisis does make oil and gas industry less interesting to an employee by forcing companies to perform cost cuts and business optimizations. It is more of a comparison question with the times when oil price was greater than 100$ per barrel. As a result, there are less financial rewards, fewer pieces of training provided, the same amount of work distributed among fewer people, almost no new projects going on in the world. Moreover, it has also affected the way that companies try to approach problems.
- Finally, the industry is very conservative and does not require a lot of scientific skills and knowledge in problem-solving, which makes it even less interesting from the engineering point of view. This point may be more relevant for NU students in Kazakhstan, because we were taught to be engineering scientists, but not really technicians. However, the industry does dictate a very practical approach that is based most of the time on previous experience and proven technology. You will not feel that you are pushing the boundaries of the science further away from working in the industry because the main focus is to always have stable production. You rarely will see hi-tech products on the project, because they are not proven. Calculations are not something that frequently used here, but the rule of thumbs, standards, and experience. Specifically, for mechanical engineers, it will require a lot of work involving spare parts, which is not the best part of my job. Vendors do design and develop their equipment, while we need to understand the main features, reasoning behind design without going into very small details. Sometimes it may require more project management skills than actual engineering since multiple disciplines are involved. You will hear saying "it is not rocket science" quite frequently and it is true.
So, if you feel that you want to develop something completely new, then I would really recommend options closer to science or academia. Industry experience still may be very useful in order to understand the reality of engineering to avoid unrealistic design proposals. However, if you want to use all your brain potential, develop something completely new and you think that you may be pushing boundaries of science and technology, then I would recommend you doing a Postgraduate degree (Masters or Ph.D.) or join R&D companies, which are not located in Kazakhstan.
To finalize, I would like to share interesting facts from my working experience:
NU is already considered as a fabric for high potential local employees in NCOC and TCO (as far as I am aware of TCO, they do employ a lot of NU grads).
Toxic alarm at the site, every alarm is really a small interesting story. Having a breathing apparatus on, walking to the safe area, understanding that there may be a fatal toxic gas outside of your mask do bring very special feeling of profession importance.
I would say that NU students are smart enough to easily become high performers in the oil and gas industry. When I just joined NCOC, I had an impression that all the expats are very smart people and super engineers; however, I do realize now that it is not always the case, but just a matter of years of experience. So, recalling my fellow students NU, I would say that industry work will not be a problem.
I wish you all the best in your beginnings, do the right choices, follow your heart and don't mind my bad writing. Hopefully, my message will be helpful.
In case if you have any questions, I am glad to help (Tazhi.kulzhan@gmail.com)
Regards,
Tazhi
---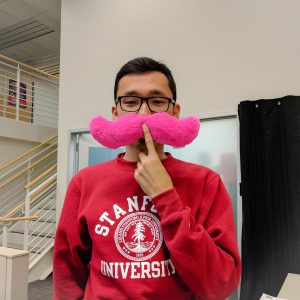 Nurbek Tazhimbetov
---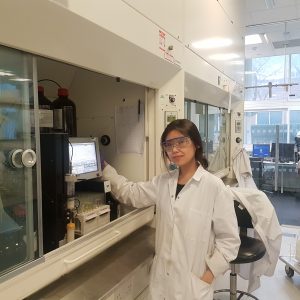 Aliya Sembayeva 
Nazarbayev University was a starting point of my journey into Chemistry World, which is full of challenges and awards at the same time. My memories of NU are strongly connected with a synthetic lab and NMR room, where I spent most of my time doing my first research projects with Dr.Carr, who created the best Chemistry Department for us. When I think of NU, the first person who comes to my mind is Dr.Carr, who was very strict but at the same time extremely fair professor, who is very supportive and ready to give advice even after our graduation.
I have always loved Chemistry and doing research work during my undergraduate time at NU allowed me to further apply to MSc by Research degree at one of the Russel Group Universities, the University of Birmingham.
I definitely wanted to be involved in pure organic chemistry research and the perfect project to show myself as an organic chemist was to choose total synthesis, which is not usually chosen voluntarily. During my Master's year, I worked on the synthesis of a marine natural product, dioxetane, which has promising antitumor activity.
I had finished my research program one year earlier than expected. When I came back home, I started to miss lab and research a lot. So I was confident that I am ready to start my Ph.D. and that I cannot imagine my life without Chemistry and Research.
Currently, I am doing Ph.D. at the University of Liverpool in the area of mechanochemistry on a tuition-waiver based program, where we synthesize and study our systems from a physical perspective. Our research group is diverse, and projects include the organic, physical, computational, polymer and mechanical areas of Chemistry. It is such a unique experience when you have all the opportunities to develop yourself as a researcher, to find out new things and to have the freedom to pursue new areas and to have this feeling that we might help the human condition.
My story is still continuing, but I strongly feel that being one of the graduates of Nazarbayev University opened me a wide window of opportunities for my future path. After my graduation, I definitely feel that all this pressure put by Chemistry professors developed a strong immune system towards the challenges of Chemistry World.
Personally, the Ph.D. program is not only about science and research, but also about balancing social, research and mentoring activities.
Currently, I am involved in and learning to balance my research work, social and mentoring activities. Me and Adil Zharmukhanbetov organized the first events of the NU Alumni Chapter in the UK and currently involved in the organization of annual research forum in the UK, which could serve as a platform for young scholars from Kazakhstan to discuss preliminary findings and have strong collaboration with UK Universities. Currently, I also gathered Ph.D. students from Kazakhstan and we created Kaz Ph.D. association in the UK, which will functionalize after New Year 2018 as a mentoring program to help high school and undergraduate students.
In my opinion, a successful scientist cannot only rely on luck but needs to be hard-working, ambitious, smart and creative. Nazarbayev University taught me to work hard, not wait, embrace the challenges, move out of the comfort zone and look ahead! The main lessons I learned at NU are to be committed to your work, be open to learning new things, not ignore professors' requests/suggestions and build trustful relationships with people you love and respect.
---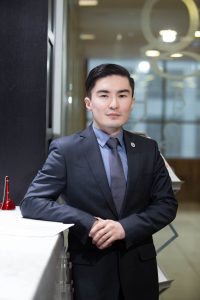 Yerkebulan Saparov
I am 23, older than Iron Mike when he became the world champion, younger than Ray Kroc when he founded McDonald's. Still, it does not matter; the only thing that matters is you being better than you yesterday. Do you miss the time when you were bolder, smarter, more disciplined and confident? If yes, I should congratulate you, you are one step closer to be a better self-today, since you are starting to admit your weaknesses and now you have one more reason to work harder.
When I was at my senior year at Nazarbayev University, I suddenly came up with the idea that even though I have passed 7 different internships (Samruk-Energy business transformation team, KazGaryshSapary national space center, Altel, Mazhilis House of Parliament of RoK, NurOtan party, Samruk-Energy corporate governance, Institute of Energy named after Chokin), I still lack confidence of where am I willing to work. This is when I and my friend Beibarys started our business project: preparation of high school students to enter Nazarbayev University and pass NUFYPET (previously SET) exam. This was a great experience when we understood that we are capable of doing more than what is already built, we can build something from nothing. This feeling is accompanying every decision we have made since then.
After successfully finishing our project, we moved on to our final year capstone project and graduated after all. While I was in the middle of the final semester comes the next opportunity: 10-week startup incubator organized by Zero to One Labs LLP in Almaty aimed to teach participants mobile apps development and build 50 mobile apps. I did apply and was accepted as a marketer. At the end of the incubator, our app made by 4 people was published at popular news portals for free, such as Tengrinews and NurKz, and allowed our 'Zheti Ata' mobile app become the most downloaded app at AppStore for one week with overall 15,000 people installing it. I felt like if you do something that you love, you would be rewarded in return.
1 month passed and I was able to receive a job offer from top-tier audit/consulting firm PwC and returned to Astana to do management consulting. PwC gave me a great experience of making selling presentations, advanced operation in Excel, practicing Finance and Market Study. Even though I had no Finance background, online education and qualified management made a smooth transition from purely engineering problems to financial. I was promoted from intern to consultant in 3 months, instead of six, and from consultant C1 to consultant C2 in 5 months, following my negotiations with my manager and director, hard work, and Victor Cheng's audio lectures. PwC becomes an example of how a well-designed and stable company should work.
After some time passed at PwC I started questioning myself: "Am I really where I should be at this time?" When the answer becomes more and more uncertain, I realized that some things need to be changed. Why was I willing to quit Big4 firm? Inability to take risks, a small range of responsibility and simply not the best fit for someone who is more "zero to one", rather than "one to infinity". However, there was a reason for me to spend almost a year at PwC. I did learn to be structured, disciplined, hardworking and use the top-down approach in solving problems and rarely boil the ocean to get to the point.
So, here I am now, Assistant to CBDO at Aviata.kz, 4-year old IT company with $40 million annual revenue with the ambitions to become an international company founded in Kazakhstan with no external support. Graduating with a diploma in Electrical and Electronics Engineering makes little sense of why am I working at this position. The answer is simple: Ma Yun (Jack Ma). He once told that we should find and follow our mentor from at our 20s. The thing is - the right mentor, in the right industry, at the right time makes a huge difference.
Aviata is a small company: 70+ employees, constantly changing processes, broad-minded leadership, and a startup environment. I am doing jobs here: recruiting, improving internal processes, making business analytics, organizing events, and doing product management. That is what is great about small companies with good leadership! You can do many functions within the organization, develop your breadth of expertise, and simply stay entrepreneurial. We do work with agile methodologies, such as Scrum and Kanban and implement Valley companies' strategies.
Join my personal telegram channel called 'paperAirplanes' where I share my experience, knowledge, and finding of business, entrepreneurship, and self-development.  In the end, I want to tell you 13 ideas, you can stick to them or not, the choice is yours:
Learn as you teach others, gain knowledge as you share them (see 'protégé effect')
Interchange bad habits with good ones (The Power of Habit, by Charles Duhigg)
Leave the workplaces that do not fit you
Fail early, fail fast, fail often, and become ok with rejections
Surround yourself with like-minded people that are smarter, better, and bolder than you
Read, read more than ever (CEO reads 60 books/year on average)
Exchange your youth for better things, time is money, include opportunity costs
Compete with yourself yesterday
Learn how people think and act, find the right approach with each person to cooperate better
Look for drives and motivations that fits you the best, make deals with your ego
Collect your anti-library (Black Swan, Nassib Nicholas Taleb)
Tell people what you think is right, challenge your understanding by others' opinions
Wake up before the sunrise.
---

Madina Kabdualiyeva
 About my acceptance to graduate school: I graduated from Nazarbayev University in 2016, with BA in Political Science and International Relations, and Sociology as the second major. In my last year at Nazarbayev University, I decided to apply for Master's degree in International Affairs at the Graduate Institute of International and Development Studies (French: Institut de hautes études internationales et du développement), Geneva, Switzerland. I was the only student from Kazakhstan in the cohort of class 2018, and the third student from our country that attended the Institute since 1927. I got two full scholarships, one from the Institute, and another one from Hans Wilsdorf Foundation (FYI: the latter is named after the founder of Rolex company founder, who decided to organize a fund that will help students from developing countries even after his death). Both scholarships were given on the basis of academic merit and my background: the difference in economic conditions of Switzerland and Kazakhstan are cosmic, which served as a good motivation to provide me with financial assistance. The scholarship is paid during one academic year, and before the beginning of the second year, students need to re-apply. This allows administration of the Institute to see whether a candidate has a good academic record and still needs a financial aid.
About Graduate Institute and SNU: Graduate Institute is a post-graduate research institute, which provides education only to students studying at MA and Ph.D. programs. Each year, around 35 students are accepted to each department, which makes our Institute quite small, even though Graduate Institute was founded almost one century ago. The Institute is considered as the best school in International Relations-related studies in Europe and stands among the best ones in the world. Due to the research institute organizational structure, you will not be able to find it in the official university ranking. However, its notable alumni and close cooperation with the UN and other world leading organizations serve as a vivid proof of its competitiveness. Ex-UN Secretary-General Kofi Annan graduated from the Graduate Institute and is our frequent guest. Also, several Nobel Prize winners in Economics, such as Leonid Hurwicz and Mohamed ElBaradei. My program is multidisciplinary, meaning, it rests on several disciplines at the same time, the most important of which are international relations, economics, and international law. Within this program, three track options are available: global and regional integration, international conflict studies, and global health and the environment. I chose the first track, which focuses primarily on studying economics, business, finance, and trade. In addition to certain course requirements, I am expected to submit a thesis in my final semester and to reach C1 proficiency level in the French language.
Currently, I study at Graduate School of International Studies at Seoul National University, at my exchange semester. Many of my friends got confused when they found out that instead of returning to Switzerland, I made my way to South Korea. To clarify, I came here to write my thesis, which focuses on the East Asian economies. SNU is one of the biggest universities in Asia and stands in the world top-30 universities list. The educational system here is more relaxed than in Geneva, I would say. Also, teaching style and structure of assignments differ from Nazarbayev University, Graduate Institute or the University of Wisconsin-Madison. I am happy that I have a chance to experience various educational systems, as it gives me a better grasp of how professionals in my field are trained in various countries.
About life abroad: life in Geneva and in Seoul is very different from the one in Astana. Geneva is very calm, and even though it's the second largest city by population in Switzerland, there are only 170,000 residents. The UN is a focal point in the city life, and you can often see diplomats or other employees with blue badges hanging on their chests. My Institute is located right across the UN and has WHO office on another side, so you will barely feel lack of motivation here. Unlike other big European cities, Geneva is never overcrowded, people go home early, and almost no one works on Sundays. Seoul, in contrast, is very vibrant and dynamic. For me, it is like New York, but better. I sincerely adore Asian business culture and attitude towards their work. Regardless of the place, you normally enjoy high-quality services, and local students are surreal in how much time they spend at their universities or workplaces. Both cities are endowed with extremely beautiful nature, so I could not wish anything but spending two years in both of these places. If you are like me, and you also care about a city where you will study/work at, I strongly recommend considering these two locations. Also, both cities inspired me to try something new, whether it is Spanish or French classes or sports.
 About future plans: The more I study and the more countries I visit, the fewer plans I am trying to make. Being a young woman in the 21st century opens multiple doors and opportunities every day, and I just try to get the best from every experience that I have. After completing my degree, I would like to come to Kazakhstan, as I always wanted to contribute to the economic, social and political growth of my country. I hope that with current credentials and knowledge I will be able to do something meaningful and induce positive changes in our society along with other alumni of Nazarbayev University.
Advice to students: It is difficult to give a very useful advice, as I believe that each person should find his/her own way depending on personal choices, values , nd background. In general, I think that freshmen should mainly concentrate on understanding what they like and what they don't like. The first years at university are adopted for trying different classes and disciplines, so don't miss the opportunity to take courses from multiple departments. Make an effort to prioritize the activities that make you happy and will be useful for you in the future. For example, if you like learning foreign languages, sign up for language classes, but think twice before you choose what language you want to learn and where you can use it aafterward Sophomores, start finding internships, not only during summer, but also during Fall and Spring semesters. Don't be afraid of contacting big firms or NGOs and ask for a vacant place. The level of competition in Kazakhstan is very low, in comparison to Switzerland or South Korea, so use this situation wisely. Be prepared that barely anyone will assign you with completing sophisticated assignments and do not get disappointed if everything that you do is paper work. Every single experience, positive or negative, will help you to understand something about our labor market and corporate culture, so do not stop just because you had a boring job once: you may have ten tedious assignments before you will find what you need. Juniors, start making up a list of universities where you want to apply to or organizations to work at. Do not postpone preparation for GRE, GMAT, LSAT, MCAT or any other test, as all of them require a lot of time and hard work. It is less stressful to spend one year in preparation learning 20 new words and solving 20 Math problems every day rather than trying to memorize dozens of words lists and practicing subject problem sets within one month. Seniors, just do not worry. Most of you have accumulated enough knowledge by this time to enter the labor market. Some of you will succeed right away, others will need a little bit more time to clean up their thoughts and find their "selves". Comparing yourself to your fellows can be a good strategy that may motivate you to work harder, but it also can be a poisonous practice that will engender many negative feelings. Your personality is unique and you do not need to follow the common path to reach your goals.
I am always happy to help our students and to answer the questions they have, if only these are not questions about "how I got accepted to the university" J This question is impossible to answer, as only the admission committee knows the precise reasons. In any other case, feel free to contact me. Keep yourself safe, enjoy your youth, be brave to admit your weaknesses and focus on developing your strengths.
Much love, Madina
---